How Good Are You at Teamwork? Good enough to plan some extraordinary fit couple goals? If yes, then your relationship is moving on the right track. Have you seen a power couple lately that workouts together, drink protein smoothies, and well focus on all the smart fitness goals to "make it happen"?

Well, yeah….those are the kind of fit couple goals one needs to look forward to. I mean hey! It's cool you want to hang out with your partner, eat a pizza, go on a dinner date, or movie dates (no judgment here) but that's what you would do with a friend too. But what else are you willing to do to take your relationship goals to the next level?
Working with My Partner…Are You Kidding Me?!
Actually no. it may sound ironic to many but have you seen couples that do an early morning run? Sometimes don't you just wish that instead of being verbally encouraged what if your partner was working out with you side by side in the gym? Working out with your partner can be romantic too!
It's perfectly normal if that question comes to your mind. Everyone knows having a gym buddy is the second best thing that could ever happen to you (of course having a BFF is the first best thing always) and to imagine your partner is your gym buddy?
It's A.M.A.Z.I.N.G! Working out with your partner can be romantic too.
Couples that train together, stay together! Rules to follow fit couple goals are damn easy!
Physical fitness is one thing that keeps an individual focused and driven in their outspan. Planning a workout routine as not that easy but being consistent is what counts the most. Workouts with your partner are another reason why couples can bring their relationship to the next level of romanticism.
While working towards a healthy relationship and fitness goal always remember;
Keep an open mind. Fitness goals level varies from person to person. If you can do 500 squats in a day doesn't mean your man can do the same maybe he is good at something else. So let them adjust to their workout routine.
Workout session with the love of your life is not a competition! So don't make it into one either. Learn to enjoy the time you spend together either running or doing
Try the workouts that both partners can do at the same time. You will be amazed at how fun that can be.
Be encouraging towards your partner. It's the foremost goal of working together and take a moment to enjoy fitness couple goals.
Always run together, you will love the exhilaration from burning calories together.
Indeed, you and your partner can do many things to stay fit and healthy. But if you want to get the most out of some fitness goals with your partner, it's important to learn the importance of strength and conditioning. It can help you both in various ways, such as enhanced overall health, improved physical performance, and injury prevention. Luckily, there are strength and conditioning coaches out there to help couples like you achieve the benefits of strength and conditioning and the tips mentioned above.
Want some fit couple goal inspirations? If you think you are fit to be in love then these couples must be your favorites!
The fitness King and Queen
When you scroll your Instagram, a post always pops of this Latina singer in her workout gears. Man! She's literally 50 with a-rockin' bod. JLo and her fiancé Alex Rodriguez are your fit couple goals (or what it should be like).
Recently they posted a YouTube video titled "The Grind", 10 days of intense workout challenge. If that doesn't hit inspiration in you all, then I don't know what will.
American Idol is Fit Couple Goal 
"What's the best thing in a relationship? You partner encourages you to grow and evolve, "says Carrie Underwood
This country singer along with her husband is enjoying "better together" days in a gym. Celebs are never to shy in sharing their fitness regime and so keeping up with the tradition Carrie also shared a fantastic workout picture with flexing muscles.

Both are a bit of traveling nerds, and even then it doesn't disrupt their fit couple goals routine.
Ex-Victoria Secret Model and The Football Quarterback
This one is pretty much a given, for a fit couple goal, I'm just in love with Gisele Bündchen and Tom Brady. Their crazy diet plans and fitness routine has always been on the display for their followers on Instagram. Besides that, the model is quite straightforward when it comes to a healthy diet and fitness she doesn't comprise at all.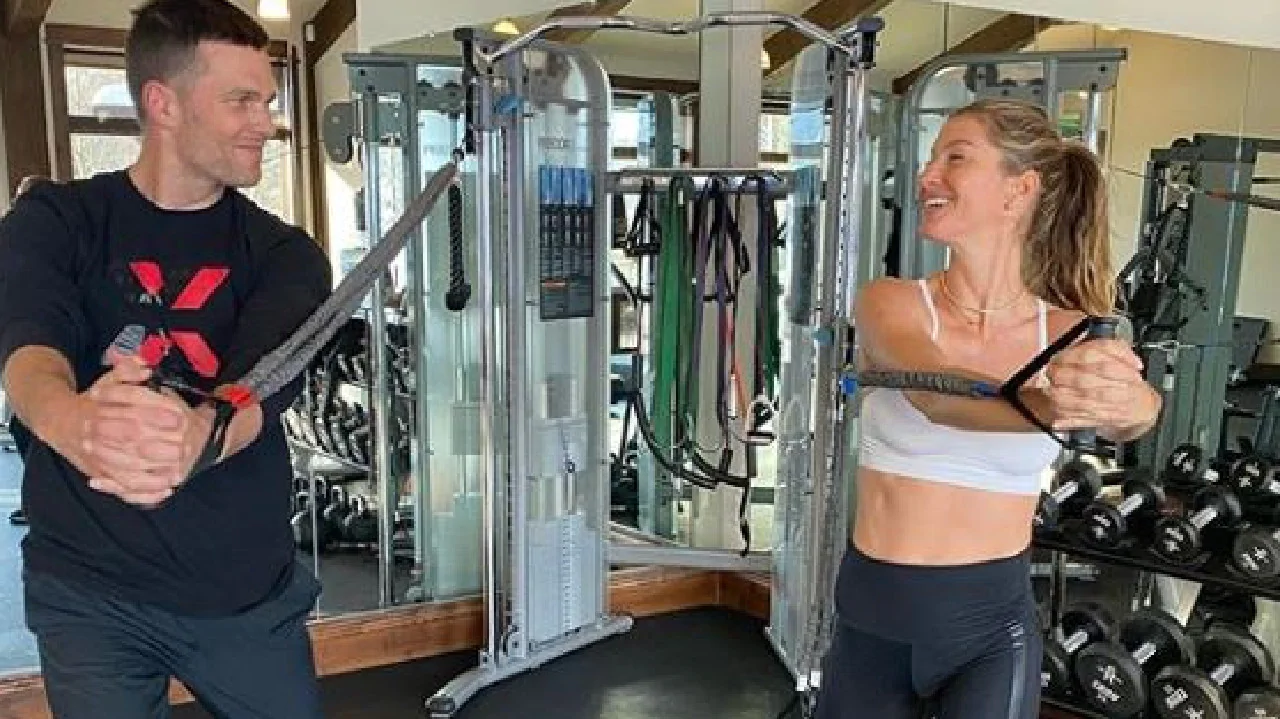 It turns breaking a sweat with your husband is another relationship goal you need to experiment with. If you want to look at the picture of bold and beautiful then these two fit perfectly
They Got Moves Like Jagger!
This just keeps getting better and better. The Maroon 5 lead singer, Adam Levine, with his wife, Behati Prinsloo is your next inspiration. Behati is gorgeous with her model figure but she always has credited gym routine to her husband.
These are the two love birds working towards their fit couple goals. Would you love it they recorded their best sessions so you can move like jagger and into their footsteps as a couple? Yes!
Aren't these couples hit and hot? We live in the world of influencers so rather than looking down upon ourselves (or at your partner) why not learn something positive from these favorite couples?
If you are inspired enough, a question may come to your mind: What are the best couple of workout plans? Well, to keep things simple you can go about it two ways;
Workout plan with equipment
Workout plan without equipment
If you want to follow a workout plan without equipment then following four steps are best for beginners;
1: Star with jumping jacks, high knees, run, mountain climb, and planks, warm up your body with calisthenics.
2: do as many reps of push-ups as you can or for now keep a target of 5 push-ups sets.
3: continue with 4 sets of reverse crunches until you feel the burn
4: cool down your body with stretching!
A fitness routine is tough as nails but you need to work with consistency and honesty. It takes two to tango, go with this rule to plan your fitness session with your partner. Workouts work best when you do not cheat on them! Fit couple goals are your diadem for;
Live, Love and Lift