When it comes to the sources of iodine, the first that clicks in our minds are salt.

Believing that salt is the only source of a vital nutrient is bad news for many especially those suffering from hypertension.
Luckily, salt isn't the only source of this nutrient. Nature has bestowed us many other foods that can help fulfill the deficiency of this nutrient.
Why we need Iodine?
Iodine is an essential minor nutrient that helps in the regulation of the thyroid gland to produce thyroid hormones.
These hormones are responsible for healthy metabolic rate, growth, and development.
Iodine is not naturally produced by the body so it is added from an external sources.
Lack of iodine causes hypothyroidism which leads to goiter (gland enlargement), weight gain, weak muscles and weak mental development in children.
According to the Institute of Medicine (IOM), an adult needs 150 mcg of Iodine per day. In children, the average amount is 90-120 mcg and 220-290 mcg in pregnant and nursing women.
Natural Sources of Iodine:
There are many sources of Iodine but major contributors are dairy and seafood sources
Aquatic Sources of Iodine
Seaweeds
In the naturally present sources, seaweed by far is the best source for iodine.
The amount of iodine varies depending on the type of seaweed. Kelp, Kombu, Nori, and Wakame are some iodine-rich seaweeds.
Kombu kelp had been a part of Japanese food for centuries. It is either sold in form of dried powder or pickled in vinegar. It is added to food to increase the nutritional value or eaten as it is. Kombu is also high in fiber.
1 gram of Kombu contains about 3000 mcg of Iodine, so a very minute amount of this seaweed is enough. Overdose of iodine could result in thyroid dysfunction in some individuals.

Wakame is a green and a bit sweet seaweed. It is distributed dried or salted. Miso soup mainly contains this seaweed. The amount of iodine is 66 mcg per gram.
The amount of iodine in Nori seaweed is lower with only 16 mcg per gram. Nori sheets are usually used in sushi rolls.
Cod
This low fat and low caloric fish is rich in nutrients and minerals like iodine, protein, and B vitamins. If you are not a fan of seaweeds then this fish is an excellent source of iodine.
3 ounces of Cod will provide 99 mcg or 66% daily value of Iodine.
Tuna
It is good news for seafood lovers that there are so many sources of Iodine. The popular Tuna Fish is also packed with iodine.
There also evidences that suggests that this fish might lower the risk of heart disease.
3 ounces of tuna canned in oil will provide 17 mcg of Iodine in your diet.
Shrimp
Shrimp contains a good amount of iodine in them. The minerals from the sea are absorbed in their bodies which could be beneficial for humans when eating them.
3 ounces of shrimp will provide 35 mcg of iodine which makes up 23% of the daily value
Dairy Sources of Iodine
Milk
In American diet Dairy products contribute much toward Iodine intake. The milk contains a fairly high amount of iodine.
The amount varies from brand to brand but it can provide up to 100 mcg of Iodine per cup.
Generally, one cup of reduced-fat milk will give 56 mcg or 37 % daily value of Iodine.
Cheese
Cheese is also one of the favorite food in the American Diet. Good thing is that it contains a rich amount of iodine.
Depending on the type of cheese the amount varies. Cottage cheese provides 65 mcg Iodine per cup while Chedder cheese will give 12 mcg per ounce.
Yogurt
Yogurt is the best dairy source of Iodine. So if you don't like seafood then a dairy product like yogurt is the best option for you.
One cup plain, low-fat yogurt will provide 75 mcg of Iodine.
Yogurt is also good for gut microflora. It is recommended to add yogurt to your diet for healthy metabolic health.
Enriched sources of Iodine
Iodized Salt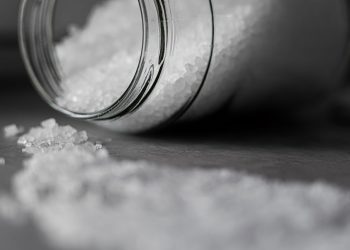 Lastly, we have iodized salt. It was due to a deficiency of Iodine and goiter that Americans decided to add iodine in salt.
Salt is part of almost every food so fortifying it with Iodine was a wise choice.
The major flaw of this decision is that many people with low salt tolerance cannot take salt in their diet.
The number of hypertension patients is increasing due to which salt intake is decreasing.
The average iodized salt contains 71 mcg of Iodine per 1.5 gram.
Bread
Bread is part of almost everyone's breakfast. This might be the reason that other than Salt, Bread is also enriched with Iodine.
2 slices of enriched white bread provide 45 mcg of Iodine in the diet.
Conclusion
The requirement of Iodine is very little for a lifetime. Only a teaspoon, but since body depletes nutrients it is necessary to keep a balanced iodine intake.
Goiter is a serious disease that is preventable with Iodine.
Asking for your doctors advice when it comes to iodine is a wise decision.