Sweating is a natural phenomenon. It is how the body regulates its temperature. While working out or enjoying a sauna our body sweat glands enlarge which is normal. But why do I sweat so much when I sleep? This question comes in your mind more than often when you start to sweat abnormally at the night. Waking up sweating, especially in the middle of the night does not happen to someone in routine. There could be several reasons behind the late-night sweats. It could be a hormonal problem or a psychological one or even something related to your fitness and health.

Do you often find yourself tossing and turning at night, struggling to get comfortable? If so, you're not alone. According to a recent survey, over 60% of Americans say they have difficulty sleeping at least a few nights per week. There are many factors that can contribute to insomnia, but one common cause is an uncomfortable mattress. If your mattress is too soft or too hard, it can lead to restlessness and prevent you from getting a good night's sleep. Airflow mattresses are designed to provide the perfect balance of comfort and support, helping you to sleep soundly through the night. The unique construction of these mattresses allows for adjustable firmness levels, so you can customize the bed to suit your needs. Additionally, airflow mattresses are made with breathable materials that help to regulate body temperature, preventing you from overheating during the night.
While it may seem like an extreme solution – for some individuals these tend to work great as a sleep aid. This type of mattress features a series of interconnected air chambers that adjust to your body's contours. This provides superior support for your back, neck, and shoulders, helping to reduce pain and improve sleep quality. In addition, airflow mattresses are often made with cooling gel or other materials that help to regulate body temperature, keeping you cool and comfortable all night long.
When to be concerned about night sweats
Everybody functions somewhat differently. Some are prone to sweating in humid weather while some even have cold sweats in winter. The sweating process varies from one person to another. Night sweats, excessive sweating, can be a common symptom of;
       

Premenopausal in women

       

Medications

       

Hormone problems (Low-T)

       

Low blood sugar

       

Neurological problems
The symptoms also vary according to the reason. For instance, one may experience cold chills while someone could feel feverish or moody once the night sweat begins.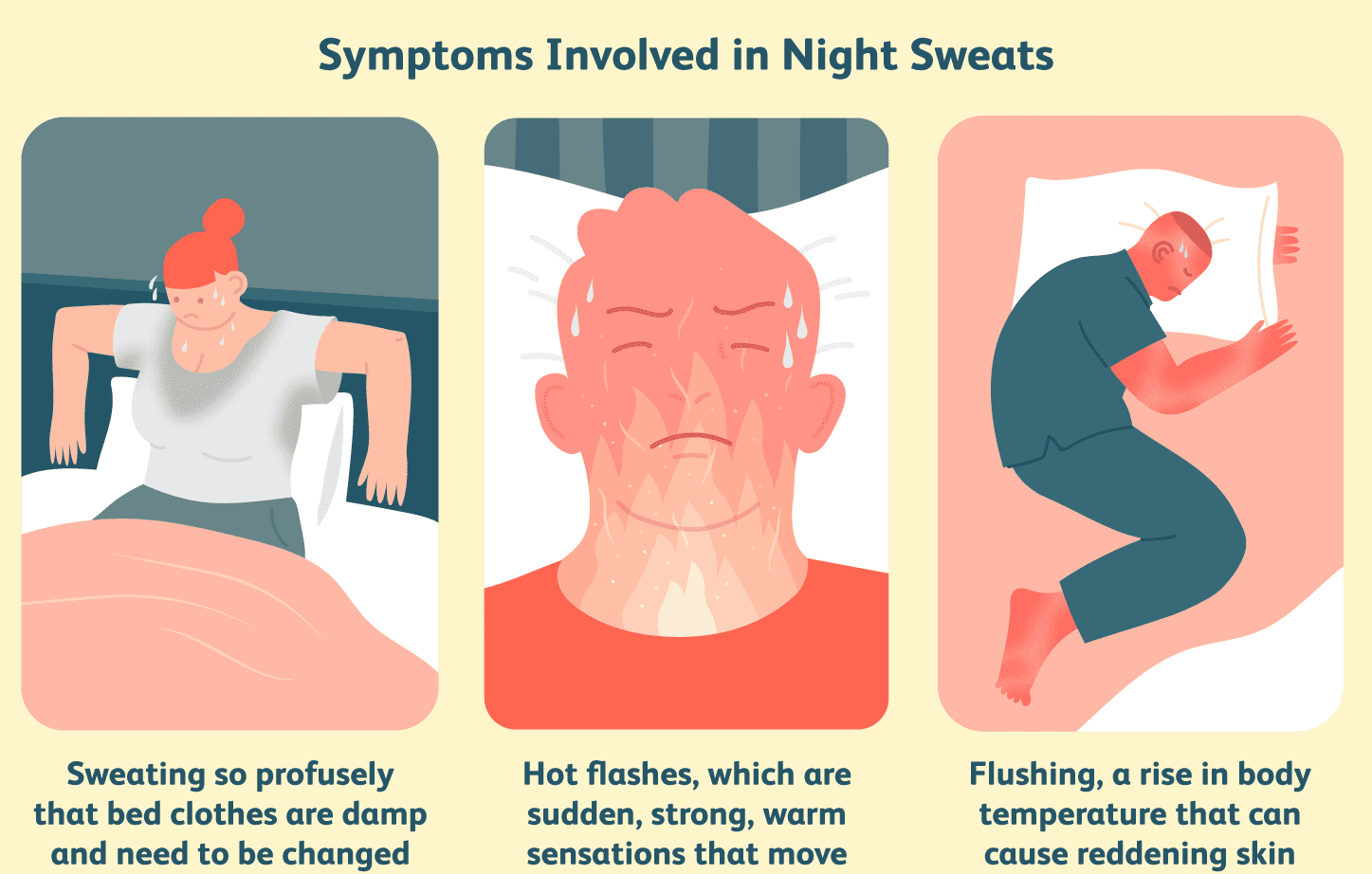 What are night sweats?
Might find the idea of night sweats unbelievable but unfortunately people do suffer through it. It can occur during deep sleep even. It's not because of a heavy blanket but it is related to a health concern.
"Night sweats are an episode of excessive perspiration during sleep".
You feel soaked and drenched and even have to change your sheets more than often.  If you keep your room temperature normal or slightly above normal then it's a high possibility to start sweating in sleep. It is estimated that over 41% of people are said to experience sweating in sleep. These are different than hot flushes. It does not provoke night sweats.
"Hot flush means reddening of the skin from an increased blood flow".
What causes night sweats?
Body temperature is complex. It rises or decreases because of multiple factors which makes it hard to observe the exact cause behind the night sweats. So to answer your question who do you sweat during your sleep following details gives a brief inside look.
Some of the less concerning causes of night sweats can be;
 

Gastroesophageal reflux disease (GERD

) can also cause chest pain, swallowing problems, sleep issues, and other respiratory problems like coughing. You may be diagnosed with this if you experience any of these problems twice a week or more. It's better to consult your doctor right away.  

 

Stress and anxiety

can cause you to sweat abnormally. When you feel nervous, your hands start sweating. This relates to mental health and fitness. Palm sweating is a physical symptom but even during sleep, you may feel as if you have a lot to worry about or have trouble sleeping due to unpleasant dreams, and so on.

Hormone disorders

can be another cause for night sweats like menopause, low testosterone, or hyperthyroidism.

Medication

can also be the cause of

excessive sweating at night

. It occurs as a side effect of some common drugs. Some of the common type of medication that causes night sweats to include steroids, pain relief medications, hormone therapy or diabetes medication, etc.
Some of the major concerning causes of night sweats can be;
Sleep apnea

– in this condition you can stop breathing during sleep (multiple times). It is most likely to happen if your throat tissues block the airway. So when you ask yourself

why do I sweat so much when I sleep

, it probably could be because of this very reason.

Cancer

– night sweat can occur as one of the many symptoms of cancer too. Sometimes there are mild symptoms like flu that do not relate to being cancerous at all. But if you feel fatigued for more than two weeks it could be an early sign.

Infections

can also cause excessive sweating in sleep like tuberculosis, brucellosis, or HIV, etc. however the symptoms associated with the severe infections will vary from chills and fever to aching muscles, body pain, or even weight loss.

Neurological disorders

like stroke, syringomyelia, or autonomic neuropathy can also be the reason why you sweat during your sleep. Feeling dizzy, losing consciousness, loss of appetite or numbness are some of the indicators.

What causes night sweats in men?
Night sweats can happen for non-medical reasons too like after a workout or after taking a hot shower or maybe you had a drink?
Keeping this factor in mind there can be a lot of other reasons too that can include;
A nature temperature rise can be the cause of night sweats. For some its pretty much normal to wake up with higher body temperature. 

If men are over 40, andropause can be one of the reasons too. It means that testosterone level decreases in men which causes excessive sweating in the night.

hyperhidrosis, another medical term associated with diet, stress, spicy food or use of alcohol can cause heavy sweating in men. 

 Night sweats women
The most common reasons for night sweats in women is related to perimenopause and menopause.  Besides, there are other health-related reasons too like 
Suffering from cold or flu 

Bacterial infection 

Hormonal diseases like an overactive thyroid or endocrine tumors 

Substance abuse (including heroin or cocaine) etc
Women who suffer through night sweats will have some of these above mentioned health-related problems too. So its best to pay your doctor a visit. 
How to stop night sweats?
The good news is that it is possible to get rid of night sweat. Easy to follow home remedies can be a lot helpful. 
Focus on a healthy diet. Avoid caffeine, alcohol, or spicy food (especially men). Try to quit smoking. Instead, focus on drinking plenty of water. 

Making your bedding as cool as possible is important too. Make sure that sheets and pillowcase covers are breathable materials. 

Manage your stress anxiety by adopting a healthier lifestyle. Focus on fitness goals like doing yoga, or another form of meditation. 

Consult your doctor, and follow the prescription carefully.