Comfort food is the source of happiness for us. Often we use it as a form of self-meditation. They are associated with various memories. They give us instant gratification.
Even Nigella Lawson has made her fair share of comfort food. And I love her a little more for that. Comfort food can be anything, even reminiscent of your childhood or a meal that has a very special place in our heart.
Needless to say, it's a warm feeling in your belly and a mending medicine for a broken heart as well. 
"Food is the most primitive form of comfort."
Comfort food is very sacred to us. No doubt about it. I can eat my fair share of comfort food without feeling guilty. So, let's indulge in some of the easiest comfort food recipes and get all warm and toasty!
Super Comfort Food: Mac N Cheese
Mac n cheese is the ultimate comfort food. You can eat it any time of the day. All that cheesy goodness and creaminess is simply mouthwatering. 
Ingredients:
1 cup dried elbow pasta

1 cup whole milk

2 tbsp butter

1 cup grated medium sharp cheddar cheese – divided (measured after grating)

1 cup grated Gruyere cheese – divided (measured after grating)

1/2 Tbsp. salt

1/2 tsp. black pepper

1/4 tsp. Paprika
Cooking Method:
Preheat the oven to 220°C/200°C Fan/gas mark 7/425°F. Cook the macaroni according to the packet instructions, drain and then put back into the hot pan

Combine milk, butter, salt, pepper and paprika and mustard in the saucepan

Stir frequently until butter is melted and increase heat to medium

Once the mixture comes to a simmer, return pasta to the saucepan and stir well

Reduce heat to low

Add cheeses, allow to sit about 30 seconds until slightly melted and then stir until all noodles are coated

Bake for 5-7 min, for a crust, add more cheese on top 

Serve immediately. Sprinkle with additional smoked paprika.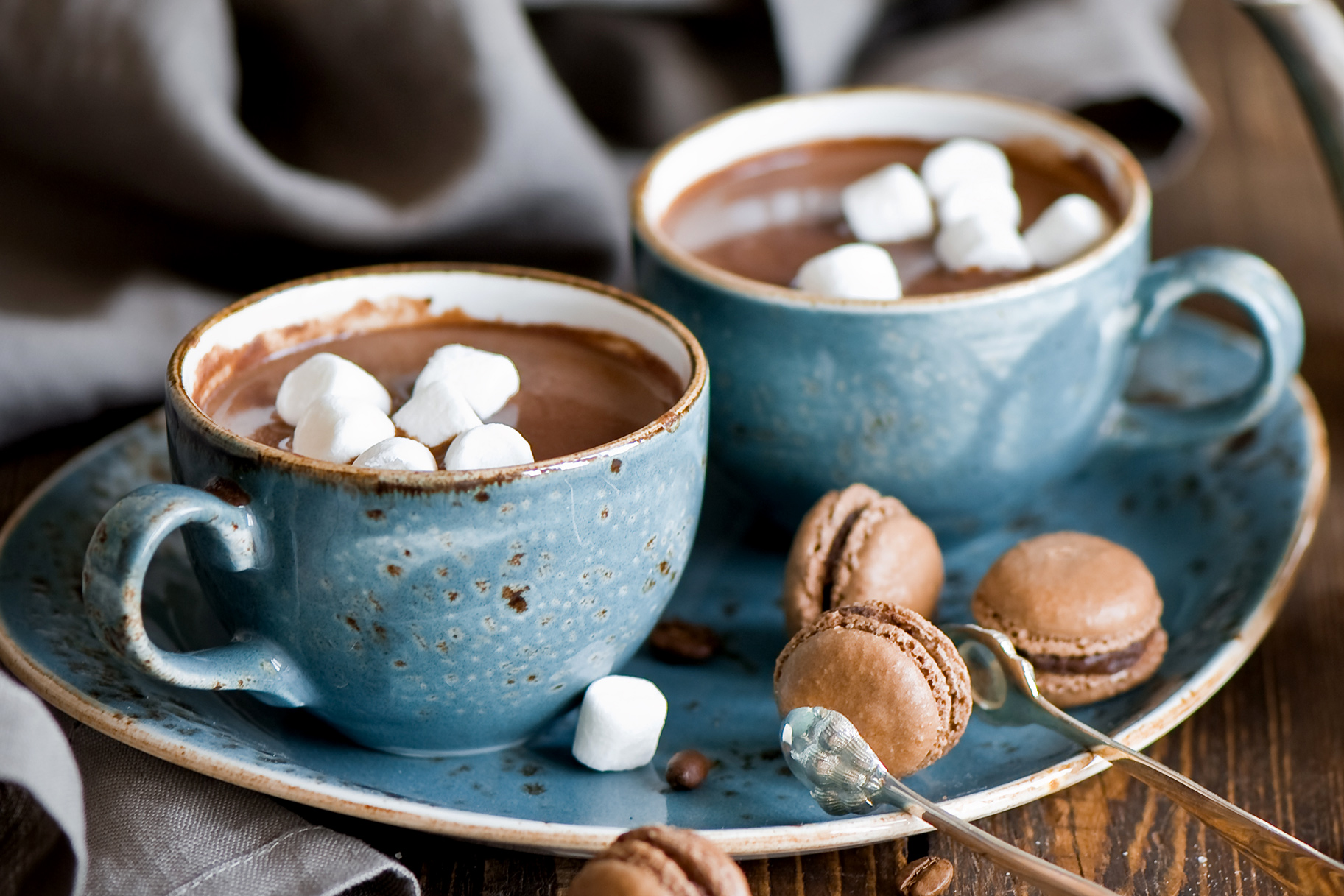 Hot Chocolate with marshmallows
Oh, the warmth of a good hot chocolate. It is the best chocolaty treat for those cold winter nights.
Ingredients:
2 cups whole milk

2 tbsp sugar (or according to taste)

4 oz bittersweet chocolate chopped 

splash of vanilla 

whipped cream (optional)

marshmallows (optional) 
Cooking Method:
Warm the milk but do not bring it to boil. Wait for the bubbles to form

Melt the chocolate in the microwave for 30 seconds

Add the melted chocolate in the milk gradually

Stir well

Add a splash of vanilla for more flavor

Enjoy with your choice of topping (I like my hot chocolate with whipped cream) 
Homemade Pizza
Pizza for me is Joey's special (every Friends fan will get it). I like my pizza with zero veggies and more cheese and tomato sauce. Especially if it's homemade.
Ingredients:
FOR THE DOUGH
1 1/4 c. lukewarm water

3 c. all-purpose flour

1 tbsp. granulated sugar

1 (1/4-oz.) packet active dry yeast 

2 tsp. Salt

1/4 c. olive oil
FOR THE PIZZA
1 c. marinara, divided 

16 oz. fresh mozzarella, thinly sliced, divided

Fresh basil leaves

Pinch red pepper flakes
Cooking method:
In a bowl, add water and sugar and stir to dissolve. Add yeast and let sit until frothy, about 15 minutes

Knead the flour with salt, oil and yeast mix

Knead it until becomes smooth and together

Place and cover in a bowl with oil and warm cloth until it rises and doubles in size

You can prepare the dough 24h in advance as well

Preheat your oven to 350-400C

Flatten your dough according to your pizza pan. You can make the crust, thin or deep pan, as you want

Spread the marinara sauce, leave 1" space at the corners

Top with mozzarella and basil leaves

Sprinkle chili flakes

For more flavor,  feel welcome to add cheddar cheese as well

Bake for 10-12 min or until the dough and crust is golden

Voila, enjoy your freshly made pizza with a glass of wine (or coke)
Chicken Noodle Soup
This is the best comfort food when you are sick or when you are just missing your mom's cooking. 
Ingredients:
2 tbsp. olive oil or cooking oil

1 small yellow onion, chopped

2 medium carrots, peeled and chopped

2 stalks celery, chopped

4 c. low-sodium chicken broth

2 cloves garlic, minced

Freshly ground black pepper

2 tsp. fresh thyme leaves

Kosher salt

2 lb. 

boneless skinless chicken breasts (about 4) ( or you can use dark meat)

4 c. cold water 

8 oz. egg noodles

Pinch crushed red pepper flakes (optional)

2 tbsp. freshly chopped parsley, for garnish
Cooking Method:
Heat oil in a pot and add onions, carrots, and celery

Sauté for 10 min

Add garlic and thyme and sauté

Now, add chicken breasts (you can add whole or in cubes) and sprinkle salt

Add the broth and water and let the chicken cook until tender

Take the chicken out and shred it. Put it back in the pot

Add egg noodles and cook until they are tender

Add flakes and parsley. Serve hot
Grilled Cheese Sandwich with Tomato Soup
 This hearty meal is another favorite childhood specialty. Every home has its own variation of this recipe but equally worth indulging. 
Ingredients:
TOMATO SOUP
3 tablespoons unsalted butter

1 large yellow onion, chopped

2 cloves garlic, minced

15 oz crushed tomato (395 g), 1 can

2 cups chicken broth (480 mL)

¼ cup heavy cream (60 mL)

2 teaspoons salt

1 teaspoon pepper
For the grilled cheese sandwich
2 slices bread per person

Grated mozzarella and mature cheddar: 2 cups each

butter
Cooking Method:
Melt butter in a large pot over medium-high heat. Add the onion and stir for 6-8 minutes, until the onions just start to brown

Add the garlic and stir for another minute. Stir in the crushed tomatoes, chicken broth, heavy cream, salt, and pepper

Bring the soup to a boil, then reduce the heat to low, cover, and simmer for 15 minutes

Remove the soup from heat and transfer to a blender. Blend for 2 minutes, until the soup is smooth and thick. Alternatively, leave the soup in the pot and use an immersion blender

For a thicker soup, you can add 2 tbsp of cornflour in the soup

For the sandwich, mix the cheeses.

Sprinkle the cheese on the slice of bread and place the other bread on top

Cook in a non-stick grill pan, over medium heat until the cheese is melted and the sandwiches are golden brown on both sides.

Dunk the sandwich in the soup and enjoy
Try these recipes and select your favorite one. So, what's your comfort food?