Man-made vegetables –not to be confused with GMOs (Genetically Modified Foods) – are those vegetables which are created by humans through selective and cross-breeding. Man-made vegetables tend to be healthier, more disease-resistant and also contain desired traits in terms of flavour, texture, appearance. 

Hybrid or man-made vegetables are created when two varieties of vegetables are crossed to produce new varieties. In this article, we explore man-made vegetables as an innovative approach to enhancing food production and discuss 15 interesting hybrid vegetables, some of which may come as a surprise to you. 
The Science Behind Man-Made Vegetables
What are Man-Made Vegetables?
Man-made or hybrid vegetables are the product of selective or cross breeding. Selective breeding is a process by which only desired traits are replanted. In other words, man-made vegetables are created in laboratories with desirable characteristics to produce a certain type of fruit or vegetable. Sometimes hybrid plants occur naturally through cross pollination, thanks to natural pollinators like insects. 
Genetic Modification
In laboratories, naturally occurring plants go through a process called genetic modification to be hybridized. Genetic modification involves adding a specific stretch of DNA to a plant's genome, which modifies its pre-existing DNA structure, giving it new characteristics. Many vegetables like broccoli, eggplant, and seedless cucumbers are genetically modified vegetables. 
Advantages of Man-Made Vegetables over Natural Ones
Since hybrid vegetables are especially created to be the best version, they tend to be better than naturally available ones in terms of taste, texture, and health. Here are some of the most favourable advantages of man-made vegetables
Flavour:

Hybrid vegetables are known to have a fresher, more greener taste than normal ones. 

Nutrition:

Apart from having an elevated flavour profile, hybrid vegetables also have a higher nutrient concentration than natural ones. 

In Farming:

Man-made veggies are designed to have a higher resistance to diseases and pest infestations, this subsequently prevents or limits the usage of harmful pesticides and fertilzers. Additionally, these plants are productive, in that, they make optimal use of the soil. 
Also Read: How to prevent fruit and vegetable wastage.
The List of Top 15 Man-Made Vegetables
1. Plumcots
With a delicious candy-like sweetness, plumcots are a hybrid between two summertime fruits– plums and apricots. This stone fruit was first created by plant breeder Luther Burbank, who cross-pollinated plums and apricots in the late 19th century and early 20th century. 
Plumcots have a slightly fuzzy skin which is similar to plums in colour, and have sweet, juicy and mildly tart flesh. They are low in calories and rich in vitamins C, vitamin A and fiber, so consider incorporating this gorgeous fruit into your diet. You can have them raw, bake them into pies and cakes, or make succulent plumcot-goat cheese crostini. 
2. Broccolini
Broccolini, Aspabroc, baby broccoli or tenderstem broccoli is a hybrid of broccoli and gai lan ("Chinese kale" or "Chinese broccoli"). Broccolini was developed over a period of eight years by the Japanese Sakata Seed Company in 1993. The aim was to create a milder-tasting vegetable which would also weather hotter climatic conditions. 
Broccolini closely resemble broccoli, but with smaller florets and longer, thinner stalks. They are a good source of vitamin A, vitamin C and vitamin K, folate, glucosinolates, and flavonoids which stunt the growth of some cancers. Fortunately for all us lazy cooks, broccolini takes no time at all to cook and most recipes are easy yet delicious. Whether you toss it in a pan with some butter and garlic or oven roast it with other vegetables, broccolini is a must try. 

3. Seedless Watermelon
With seedless watermelons, you can enjoy the sweet juicy fruit without those pesky little seeds getting in the way. Created by Professor H. Kihara, a Japanese scientist at Kyoto University, seedless watermelon is yet another product of genetic modification, wherein a male parent is a diploid (22 chromosomes) and the female parent is a tetraploid (44 chromosomes). 
Since seedless watermelon is not genetically modified, its nutritional value is the same as the seeded variety. Regardless, watermelons are an excellent source of vitamin C, copper, potassium, vitamin B5, and vitamin A. Enjoy them cut, juiced, in cocktails (watermelon daiquiri) and in a wide range of salads like the watermelon and feta salad. 
4. Grapple
Unlike other fruits and vegetables on this list, Grapple is a fruit product which combines two fruits (apple and grape) without genetic modification or cross breeding. The Grapple is a brand which makes the Washington State Extra Fancy Fuji apple taste like a Concord grape by immersing them in a marinade for days. 
This process does not affect the nutritional value of the apples as there is no added sugar, calories or carbohydrates, thus allowing the fruit to retain its its natural supply of vitamins, minerals, nutrients and fiber. With "Crunch like an apple, taste like a grape" being their promise, Grapple is a joy to have on its own. You can also add it to salads or serve it with sharp cheese.
Also Read: 8 Promising Health Benefits of Avocados.
5. Pluot 
Closely related to plumcots, pluots are later generation complex hybrids of Japanese plum and the apricot. This fruit has a smooth outer skin resembling that of a plum, and was developed in the late 20th century by the fruit breeder Floyd Zaiger. 
The texture of a pluot can range from soft to slightly crisp, and the taste is tangy and sweet with less acidity due to the influence of the apricot. Enjoy pluots in a nice summer salad, with cheeses like feta, gouda, clthbound cheddar and light brie. You can also cook them into tasty jams and baked desserts. Pluots are rich in vitamin A, vitamin C, dietary fiber, protein, and beta carotene. 
6. Rainbow Carrots 
As the name suggests, rainbow carrots are genetically modified to occur in a range of colours from white to yellow to purple. One might think that each color signifies a different variety, but all colors of rainbow carrots are of a single type of bunching carrot. Additionally, the rainbow hybrid variety is quite resistant to diseases like early blight, leaf blight, black rot, and root-knots. 
Even though they are all of the same variety, each color has slightly varied flavour notes and nutrional benefits. Purple carrots are high in anthocyanins, yellow carrots contain xanthophylls, red carrots are an excellent source of lycopene, white carrots are packed with fiber and orange carrots are rich in beta- and alpha-carotene. 
You can add these wonderful root vegetables to soups, salads, and stews. We recommend roasting them with herbs, glazes and seasoning of your choice. 
7. Roma Tomato
The Roma tomato or Roma is a plum tomato which was developed by the USDA's Agricultural Research Service (ARS) scientists in Beltsville, Maryland in the 1950s. Roma tomatoes are  open-pollinated rather than a hybrid. Open refers to pollination of plants done by birds, insects, wind, human hands and other natural factors. 
Roma tomatoes have a lower water content than other varieties, making them ideal to be cooked into stews, spreads and sauces. You can also serve them on bread (bruschetta) and in salads. Romas are a great source of potassium, vitamin C and vitamin A. 
8. Tangelo
A tangelo is a tangerine-pomelo hybrid citrus fruit. In fact, its name comes from the portmanteau of its parent fruits tangerine and pomelo. Tangelos have many varieties like Orlando, minneola, and Jamaican tangelo. The tangelo was created from a cross between a Duncan grapefruit and a Dancy tangerine. Walter Tennyson Swingle of the United States Department of Agriculture (USDA) created the hybrid in 1911.
Tangelos have a reddish-orange skin and a juicy sweet-tart flavour. Tangelos are packed with vitamin C, dietary fiber, and vitamin A. You can enjoy them raw, in fruit salads, juiced, or even baked into cakes and muffins. 
9. Seedless Cucumber 
This hybridized variety of cucumber is bred to have no seeds, or seeds so minute that it seems like they're not there at all. English cucumbers are the most popular type of this variety. They are bred to be seedless and have a thinner skin and sweeter taste. 
Cucumbers are typically consumed raw in sandwiches and salads due to their high water content. Seedless cucumbers make this easier as you can avoid the pain of peeling their skin and de-seeding them. You can add them to several beverages like sparkling water, juices and cocktails, or to dips like Tzatziki sauce for a refreshing treat. Additionally, cucumbers are a good source of potassium, magnesium and dietary fiber. 
10. Broccoflower
Not to be confused with Romanseco broccoli which is also called by the same name, broccoflowers are a cross between broccoli and cauliflower. Both parent plants are crucifers which make it possible for them to be cross-pollinated. Broccoflower was first grown in Holland and later brought to the USA by Rick Antle who began distributing it in 1989. 
Broccoflower resembles cauliflower in form and flavour but has a vibrant green colour. You can roast, steam, stir fry or add them to soups and salads. Broccoflower is rich in B vitamins, vitamin C and folic acid.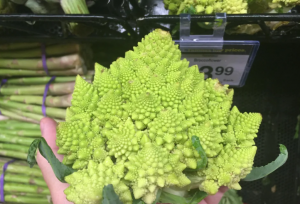 11. Cotton Candy Grapes
Love grapes but not a fan of their tartness? Try cotton candy grapes, a variety of sweet white table grapes whose flavour closely resembles that of cotton candy. These grapes were created by horticulturist, fruit geneticist and former USDA researcher David Cain who hand pollinated to cross pollinate Concorde grapes with California grapes. 
Despite being so sweet, no artificial sweeteners or added sugars are present in Cotton Candy™ grapes. Cotton Candy™ grapes are a source of vitamins A, C, and K, antioxidants, and flavonoids. You can enjoy them just as they are for a quick and delicious snack, or you can try making a Cotton Candy™ grape sorbet which is to die for. 
12. Golden Beets
Beetroot is usually synonymous with the colour red, but did you know that there is variety of beets which are wonderful golden yellow? This open-pollinated variety is native to the Mediterranean and Atlantic coasts of Europe and North Africa and has been present since ancient times. 
Golden beets are rich in dietary fiber, vitamins and minerals such as folate, potassium, and vitamin C. To get the most out of its flavour, roast this vegetable to caramelize the natural sugars present in it and enjoy it with your favourite seasonings or dressings. 
13. Kalettes 
Kalettes are the brand name for kale sprouts, a hybrid between kale and Brussels sprouts.The vegetable was developed over 15 years by the British Tozer Seeds company, which has trademarked the name "Kalette"  
Kalettes bear very little resemblance to both parents and have leaves which are small and curly with green sprouts. Their taste is slightly nutty, milder than kale and less earthy than Brussels sprouts. Kalettes are packed with nutrients like vitamin K, vitamin C, folate, fibre and carotenoids. You can have the roasted and added to salads for filling, nutritious and delicious meal. 
14. Sweet Baby Peppers
Commercially produced for the first time in 1991, sweet baby peppers or mini sweet peppers were bred to have the sweet and crunchy traits of bell peppers in a smaller form. Unlike their spicy cousins, sweet baby peppers are sweet as they don't produce any capsaicin.
Mini sweet peppers may help reduce the risk of high blood pressure and heart disease. Enjoy them stuffed and baked, grilled, roasted or pickled. 
15. Red Brussels Sprouts
Make your Christmas spread more colourful with red Brussels sprouts to go with the green ones. This variety is open-pollinated and sweeter in taste than traditional green Brussels sprouts. Red Brussels sprouts' distinct purple hue is created by the anthocyanin, a natural pigment and antioxidant.
Red Brussels sprouts are similar in nutritional value to their green counterparts. They are packed with vitamin C, vitamin K, folic acid, dietary fiber and antioxidants. For prep, roast them with red onions and bacon (or apples for a vegan alternative) with a warm honey glaze, and everyone will be begging you for the recipe. 
Also Read: 3 Natural Ways To Improve Your Overall Health And Wellness.
The Future of Man-Made Vegetables
As the world keeps evolving, technological advancements are made in the food industry, too. These innovations provide us with better fruits and vegetables with all the desired characteristics. They also help farmers increase their harvests and profits, battle pests and diseases, adapt to various climate conditions, and enhance sustainability and global food security. One of the main concerns associated with selectively bred vegetables is that they are more expensive. However, with more awareness and funding, we can make more advanced improvements in food technology. 
Conclusion
To wrap things up, it's truly incredible how genetically modified and selectively bred vegetables offer much more in terms of flavour and productivity and also enhance the nutritional value. So, the next time you pick up a selectively bred fruit or vegetable, think about the wonderful science which made it all possible.