A Keto diet can be hard to follow for a lot of reasons. Some people are unable to follow through because their body does not accept the changes being made. While some people simply lack the resources, a keto diet can get pretty expensive.
Only start a keto diet in case your health allows it. It can be quite harsh on the body while the body is accommodating to the metabolic changes.
We've tried and tested a lot of recipes over the months. So needless to say, they are safe to try. These recipes have hit home and are the easiest to try. So, let the keto fun begin!
Keto Taco Cups
Tacos are not only enjoyed in Mexico but all around the world. They are crunchy, spicy, and make your mouth salivate. Of course, easy to make.
INGREDIENTS
2 cup shredded cheddar

1 tbsp. extra-virgin olive oil

1 small onion, chopped

3 cloves garlic, minced

1 lb. ground mutton

1 tsp. chili powder

½ tsp. ground cumin

½ tsp. Paprika

Chili flakes to taste

Seasoned salt

Freshly ground black pepper
DIRECTIONS
Preheat the oven to 375° and line a large baking sheet with parchment paper

Spoon about 2 tablespoons cheddar a few inches apart. Bake until bubbly and edges are beginning to turn golden, about 6 minutes. Let cool on the baking sheet for a minute

Meanwhile, grease the bottom of a muffin tin with cooking spray, then carefully pick up melted cheese slices and place them on the bottom of the muffin tin

Fit with another inverted muffin tin and let cool for 10 minutes. If you don't have a second muffin tin, use your hands to help mold the cheese around the inverted tin

In a large skillet on medium heat, heat oil. Add onion and cook, stirring occasionally until softened

Stir in garlic, then add ground beef, break up the meat with a wooden spoon/spatula

Cook until meat is no longer pink (raw), about 6 minutes, then drain fat

Return meat to skillet and season with chili powder, cumin, paprika, chili flakes, salt, and pepper 

Transfer cheese cups to a serving platter. Fill with cooked ground beef and top with sour cream, avocado, cilantro, and tomatoes
Whole Roasted Cauliflower, Tomatoes, and Garlic
This is a vegetable party. And you all are invited to it. The fresh flavors will blow your mind. So, dig in!
INGREDIENTS
2 cups cherry tomatoes

4 cloves garlic, smashed and peeled

4 tbsp. extra-virgin olive oil, divided

½ tsp. kosher salt, divided

¼ tsp. Freshly ground black pepper

¼ tsp. crushed red pepper flakes

1 medium head of cauliflower (about 2 1/4 lbs.)

¼ tsp. paprika

¼ cup chopped fresh flat-leaf parsley
DIRECTIONS
Preheat the oven to 400° with the oven rack in the middle

Put the tomatoes and garlic in a large baking dish, then drizzle with 3 tablespoons oil and sprinkle with 1/4 teaspoon salt, pepper, and red pepper flakes

Toss to coat

Trim the large green leaves from the cauliflower and discard, then trim the stem so the cauliflower sits flat 

Push the tomatoes aside and place the cauliflower in the middle of the dish

Drizzle remaining tablespoon oil over the cauliflower and rub to coat. Sprinkle with paprika and remaining 1/4 teaspoon salt

Roast for about 1 hour, or until the cauliflower is tender and can easily be pierced with a paring knife

Sprinkle parsley over the cauliflower. Slice the cauliflower into wedges and serve with tomatoes and garlic
Chocolate Keto Protein Shake
Anything that has chocolate in it is always a must-try. Same is the case with this chocolate shake, that will definitely not make you feel guilty about your chocolate love!
INGREDIENTS
¾ cup almond milk

2 tbsp. almond butter

½ cup ice

2 tbsp. unsweetened cocoa powder

2 ½ keto-friendly sugar substitute

1 tbsp. chia seeds, plus more for serving

½ tbsp. pure vanilla extract 

Pinch kosher salt
DIRECTIONS
Combine all ingredients in a blender and blend until smooth. Pour into a glass and garnish with more chia seeds
Keto Diet Smoothie
A smoothie you can drink any time of the day. It will only take 5-minute of your time. Hassle-free and still yummilicious.
INGREDIENTS
½ cup of frozen strawberries

½ cup frozen raspberries

¼ cup frozen blackberries

1 cup of coconut milk 

½ cup baby spinach 

Unsweetened shaved coconut, for garnish (optional)
DIRECTIONS
In a blender, combine all ingredients (except for coconut). Blend until smooth

Divide between cups and top with raspberries and coconut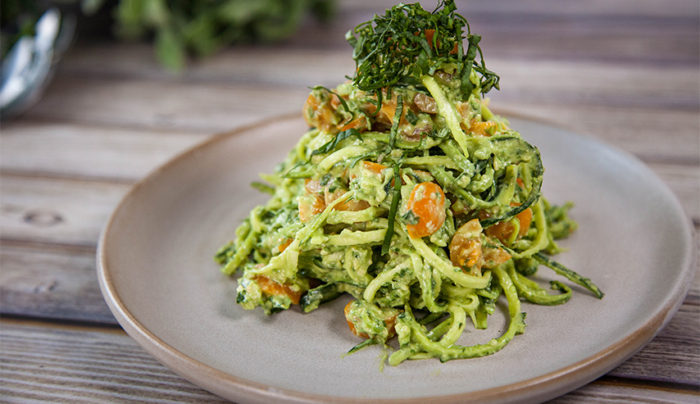 Zucchini Noodles with Avocado Sauce
Adding zucchini instead of spaghetti? Ingenious, really! Get all the goodness of any pasta dish without the added calories.
INGREDIENTS
1 zucchini

1 ¼ cup basil 

1/3 cup water 

A fist of roasted pine nuts

2 tbsp lemon juice

1 avocado

10 sliced cherry tomatoes
DIRECTIONS
Make the zucchini noodles using a peeler or a 

spiralizer

.

Blend the rest of the ingredients (except the cherry tomatoes) in a blender until smooth.

Combine noodles, avocado sauce, and cherry tomatoes in a mixing bowl.
Easy Keto Chicken Salad
A chicken salad might sound bland, but it's a far cry from this particular recipe.
INGREDIENTS
1 ½ lb. chicken breast

3 celery, diced

½ cup mayo

2 tsp. spicy Dijon mustard

½ tsp. pink

 Himalayan salt

or sea salt

2 tbsp. fresh dill, chopped

¼ cup chopped pecans
DIRECTIONS
Preheat the oven to 450℉ and line the baking sheet with parchment paper.

Bake chicken breast for 15 min, or until cooked throughout.

Remove chicken from the oven and let it cool. After completely cooled, cut chicken into bite-sized pieces.

In a large bowl, add chicken, celery, mayo, mustard, and salt. Toss until chicken is fully coated and ingredients are well-combined.

Cover the bowl with lid or plastic wrap and refrigerate until chilled, about 1-2 hours.

When ready to serve, add fresh dill and chopped pecans and lightly toss. Serve chilled and enjoy.
Shrimp Avocado Salad
Shrimp and Avocado make the best possible combination for any salad platter. Avocado brings the nuttiness and creamy texture while shrimp makes you remember the seaside. Its easy, delicate but a treat for sure.
INGREDIENTS
½ lb. shrimp, peeled, deveined, patted dry

1 large avocado, chopped

2 small Roma tomatoes, chopped, drained

1/3 cup crumbled feta cheese

1/3 cup fresh chopped cilantro or parsley

1 tbsp. fresh lemon juice

2 tbsp. olive oil

Kosher salt, to taste

¼ tsp. ground black pepper
DIRECTIONS
Sear Shrimp: 
Toss shrimp with melted butter in a bowl until well-coated.

Heat a pan over medium-high heat for a few minutes until hot. 

Add shrimp to the pan in a single layer, searing for a minute or until it starts to become pink around edges, then flip and cook until shrimp are cooked through, less than a minute.

Transfer shrimp to a plate as they finish cooking. 

Let them cool while you prepare other ingredients.
Assemble Salad: 
Toss all other ingredients (avocado, tomato, feta cheese, cilantro, lemon juice, olive oil, salt, and pepper) in a large mixing bowl until well-mixed.

Stir in shrimp.

Season with extra salt and pepper to taste, and serve. 
Try out these keto diet recipes and let us know if they fared well for you! Ciao!