Anxiety and depression once were foreign words to me. Looking back, you can find many reasons to feel depressed or reasons you felt alone. But what you don't do is "focus" on these two ugly facts of life.

Sometimes you can try so hard to be optimistic. Created a care-free persona of myself. I was the sassy kid back in school. The one who got top grades, but also got in trouble with teachers.
It's hard to connect with people on a basic level. So, if you are one of those people who didn't have many friends in your childhood, then I totally get you.
Social distancing at a young age has its toll on young minds
When you are distant from your peers, you wrap yourself in the cocoon of imagination. you become the judge, jury, and executioner of my plays. Now that I think of it, it feels more like a coping mechanism that you make just to pass my time.
I don't think growing up is easy for anyone. On a certain level, we all face problems. All of us have issues. And we create little coping mechanisms to help ourselves whether consciously or unconsciously.
Sometimes even I think I grew up too fast. I learned things the hard way. Not to say I didn't have a good childhood; I had a great one. but my teenage years were one of the most difficult ones for all, mercifully I didn't fall into depression. Nor did I get anxious. Not even when during exams and certainly not when I was in trouble with my friends.
But you know what? Things change, you grow out of that misery, that age. with every little thing that happened to you, you develop personality and groom with age.
The signs are always there but it varies from person to person.
It's easy to miss them. Depression hits you the hard way.  For instance, I used to get these little flutters in my stomach when I waited for something. Now I know that feeling is anxiety.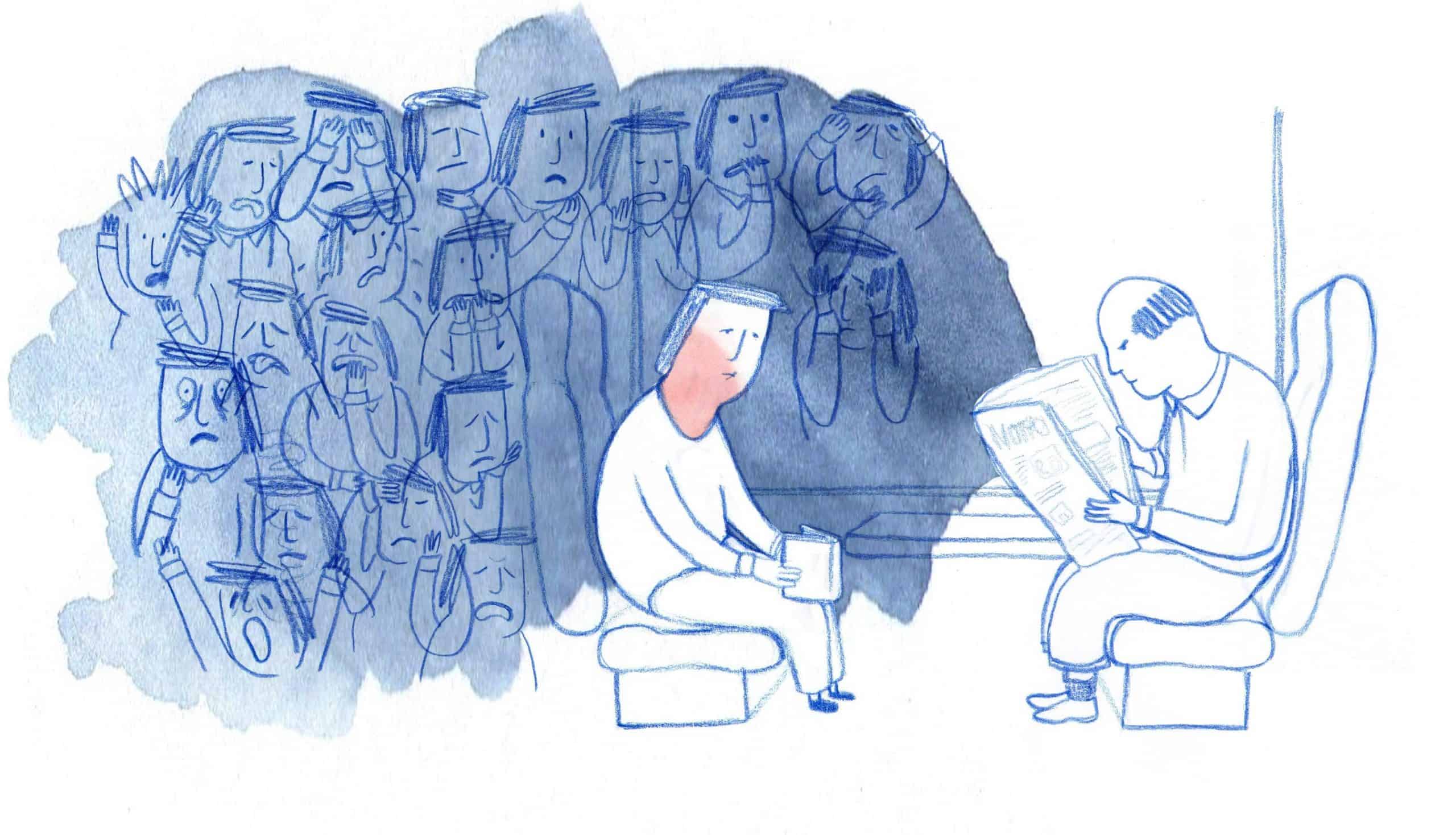 You don't want to accept reality. You bottle up things. Whenever I felt low, I used to bottle them up real nice and tight and throw them away in the deepest, darkest, furthest corner of my mind. I still tend to do that.
People in your surroundings, like friends and family, who you live with, notice the change but keep it quiet. They don't say anything at first but as they see your behavior, they make little notes. And then lay it down for us real nice.
How does a second person realize something is off?
Either you start eating way too much or you just can't find the appetite. Lethargy, tiredness, lack of self-control are just some of the few symptoms of anxiety and depression.

The biggest downside of anxiety is the loss of concentration while in depression, it's the complete opposite: Full frontal focus. You become overly sensitive and feel a lot into what people say to you.
But we realize the signs are too little, too late. And when we do, we are already embedded in the deep bowls of our personal hell.
You can't judge a book by its cover. People don't know what they are talking about…
Let nobody tell you that you are not facing issues. They don't know what's going on inside your head. Because they are not living your life. And they are not surviving nor fighting your battles.
They don't know your innermost scars, don't know how deep those wounds are.
It's okay to pretend sometimes. But we can't fool ourselves for long. That just won't do.
The first principle is that you must not fool yourself and you are the easiest person to fool
A crash course, in reality, is not what you need. What you need is to finally realize the reality you are living in and don't the mirage of pretense suck you in any further.
Accepting the expected, admit it when you feel Depressed.
Cages are beautiful. They can be made of gold or silver or brass. They can outlive so many things.
Do you know when animals act out in the beginning? It's because they know they won't see the outside world again. So, they fight. They rattle their cages, make noise. But then the fight dies down and the truth sinks in. The reality of the situation weighs them down.
Have you ever felt like a caged bird?
 Felt that your wings have been clipped down?
That's because you are in your self-created cage. Anxiety and depression evoke mental slavery.
After a while, it becomes the norm to feel caged. But you know what happens when the reality of the situation sinks in?
I have heard, 'the truth sets you free'. And it does. It really does. Because the moment you accept your truth. You fight. You battle your own mind to break the chains that are holding you back.
Accepting that you have anxiety and depression will give you that fighting chance. Because now you know what you are up against.
Emancipate yourself from mental slavery. None but ourselves can free our minds
Let thy self be thy savior
We are the only ones who can fight the ongoing battle in our minds. Once you decide enough is enough. You start to think of ways of escaping your situation.
The human mind is the sharpest of all. God created us to be the superior species for a reason. If anyone can think of ways to get out of a difficult situation it will then be my guest and you are most welcome to share it.
Anxiety and Depression go hand-in-hand. They are those third cousins that don't come often but when they do, they don't leave soon. So, you have to be the exterminator of those little pests in your home.
And stop them from making your sanctuary their home.
Do you think you can do that?
Be the brave one and fight your demons?
 Be the hero of your own story?
Because if you can, nothing can stop you from achieving what you want. And at the end of the day, you'll know that you've survived and you are going to be alright.