Honey is one of the most legendary items used as a treat to condition your skin and hair. Beauty tips for skin based on honey are famous worldwide. Whether it was Cleopatra of Egyptian time or Reese Witherspoon of the Hollywood, every woman knows honey makes up for the perfect beauty weapon.
What makes honey as the most presumptuous is its versatility. Used not only for beauty purposes but also as a medicine, one can benefit from them all.  This nature's sweetener makes up for the perfect and delicious recipes as well. But for now, let's keep our focus ways you can pamper your skin with honey.
Do beauty tips for skin work?
Ladies, I know this concern is quite common among you all but honestly speaking; the following beauty tips for skin are tried and tested. There are a lot of skincare products in the market but as far as honey goes, it is a miracle of nature. There are a lot of ways honey can be used as a beauty tip, or even as a cure.
To answer this question, the effects of honey are spontaneous, so for these beauty tips for the skin to work you need to try which one suits you best. So chill and relax, down below you will read easy to follow beauty tips for all skin kinds.
 Natural healing product for acne
Our first beauty tip for skin is that every teenager suffers from; acne. It's no hidden fact honey acts as an antiseptic, antibacterial and has anti-inflammatory properties too. This means it's one of the best natural remedies for facial acne.
For an on-spot treatment, you can apply raw honey on the acne, cover it with a bandage to get the maximum result, and rinse if after 10-15 minutes. Do this regularly and you will see results shortly.  The puffiness, redness, and swelling will minimize overnight.
Tap away the scars with raw honey
Once acne is healed, this is a major concern, the post-acne effects. Scars are a different league as they tend to stay longer on your skin and sometimes do not even disappear. For this beauty tip for the skin to work, you need to apply raw honey on your face, leave it overnight and rinse it off the next day.
You have to be extremely consistent to follow this routine so that honey can work on the healing process and fade the scars.
Beauty tips for skin also include a bath soak!
After a long tiring day at work, a good bath sounds nice, doesn't it? This time advance your relaxation goals in a honey-infused bath.
Honey makes your skin soft even after you dry your skin and leaves a certain glow on the skin so this bath is the perfect way to pamper yourself. Fill your bathtub with lukewarm water (keep it lucid) add tabs of honey in it and soak for at least 15 minutes and rinse off with plain water.
If you like you can add some essential body oils for fragrance too.
Cover your face with honey masks
As mentioned above, honey makes your skin soft and makes it glow, making a honey face mask sure will add the much-needed smoothness too. Even guys can use this face pack after a long day.
Take a generous tablespoon of honey and rub it all over your face gently. Let it sit for at least 10 minutes and a maximum of 30 minutes (if you can stay still for that long) and rinse your face with lukewarm water.
Another beauty tip for skin based on honey also involves turmeric powder! You can add a teaspoon of honey, lemon juice, and yogurt in turmeric powder. Once you get a smooth paste, apply it on your face. Let it sit for at least 10 minutes before you scrub it off.
Add the skin lotion into the mix too
Dry skin is nobody's favorite. If it's worrisome too much why not just use a homemade honey lotion to keep your skin hydrated and moisturized?
You may already use various beauty products to cover this little problem but what if you run out of those? But a good homemade recipe can save you tons of money. Just use natural ingredients; a spoonful of honey, a teaspoon of olive, and a squint of lemon.  The use of olive oil adds smoothness and removes dryness alongside honey while lemon juice acts as a skin brightener.
Best beauty tip to remove blackheads
If you sin, it must look like blackheads on your nose. These are hard to get and painful to get rid of. But guess what, honey works wonder for your nose too!
To remove blackheads painlessly, just mix honey with lemon juice and apply in on your nose. Mind it, you have to leave it overnight and by next day…blackheads will be gone from your life for good.
Wasn't that easy?
Make honey your next conditioner
Chemicals damage your hair more often than you can even realize. Even a good shampoo or conditioner may have adverse effects. Can you sleep on it? You better don't. Finding a good conditioner is a tough job, that's why this beauty tip is for your hair.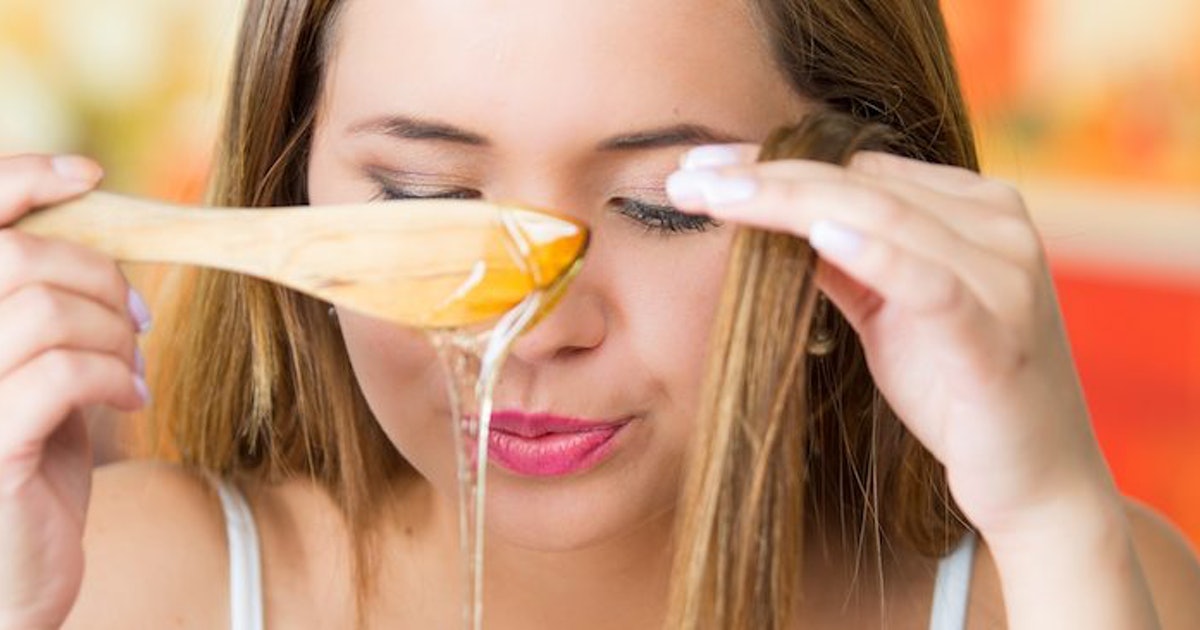 To perfectly nourish your hair, honey acts as a moisturizer that will leave your hair smooth and healthy even after one use. Take one-quarter cup of raw honey, use just enough water to thin it, and spread it all over your hair (including your scalp).
Remember to use this conditioner on damp hair (after you shampoo) and rinse it off with warm water. Say goodbye to split ends too!
Honey aid is for all
Beauty tips for skin may never last, but try these tips so that you can stop feeling sorry for yourself and for once enjoy an easy skincare routine. it may be hard to cope up with dry or dull skin but using organic honey is the best way to take care of your skin and hair in the best and cheapest way possible. Toodles!