Independence Day vibes are in the air (despite the heavy circumstances) and you have no idea what makeup regime you want to use for this day. 4th of July is auspicious not only because of the mass celebration for every American but well, it gives you another excuse to get dolled up too!

While normally, these days' girls are going crazy with all kinds of makeup tutorials from glamorous to showbiz to natural looks, every once in a while going a little crazy is good. The best way is to getting makeup classes from hintacademy.com
Makeup palettes are pretty festive and daring for most girls, but it's never too much makeup!
Are you looking for some beauty makeup inspirations for wicked winged eyeliner or a cat-eye makeup?
I've got some of the coolest makeup ideas in the throes of blue, white, and red!
Time to Light Up Your Makeup Vanity
Are you looking for some beauty makeup inspirations for wicked winged eyeliner or a cat-eye makeup?
I've got some of the coolest makeup ideas in the throes of blue, white, and red!
· Blue and red-winged eyeliner with a silver highlight…and a tiny star!
This look is pretty much conventional and out there. Neither too flashy nor too boring you can perfectly dip your brush in medium brown palette and accessorize the look with strawberry liquid gloss or matte look (whichever you like the best). and don't forget to use the highlighter.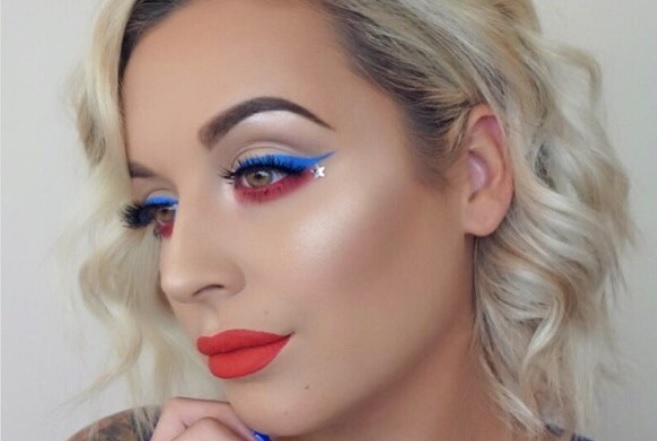 Before you put on the makeup use the makeup primer and tap it into your skin, use a set of concealer and contour palette to highlight your best facial features. Once you are done with painting that perfect winged blue top liner, use a red eyeliner on lower lashes.
Complete your look by adding a tiny cute star!
Blue Smokey Eye is eye-catchy
This one is my favorite just because it's all blue! A little sultry smokey eye dipped in the shade of blue can never go wrong.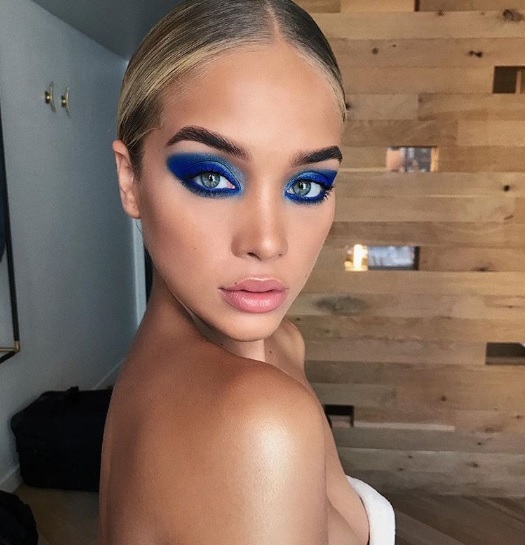 This smokey eye looks best with a nude gloss and a shade touch of highlight on your cheekbones. You do not have to overdo your 4th of July makeup look, you can even use a single color.  For a nude gloss, you can pick Holiglaze gloss, or if you feel bold and a little daring then why not paint your lips red with a Glamrock gloss?
With those blue smokey eyes, you can rock any lip color!
Shay Mitchell bronzy look
Those with great olive skin get to take some hot inspiration from Shay Mitchell (Pretty Little Liar) star. If you think bronzy makeup is less patriotic, and then think again, it's not.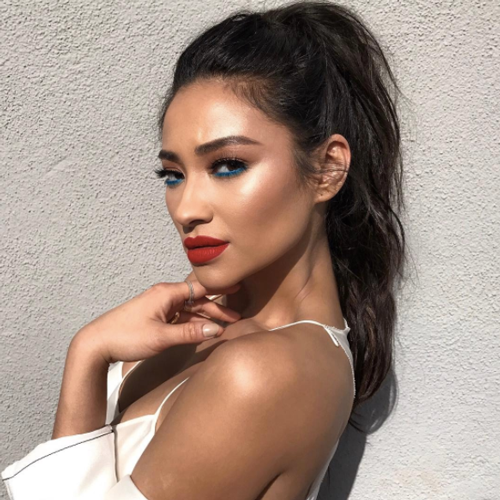 The best thing about olive skin is you can try every dark and festive color in your makeup palette and it will look good on you.  For the sun-kissed look you need to use the popular palette "P.S I Love You with 4 unique shades; "Mi Amor" for your eye shadows.
Then tone your eyelids with three basic shades; My Everything, Soulmate, and 143. And don't forget to blend Spark on your lower lash line too. Give the touch of flawless lip color application and use a concealer to outline the shape of your pouty lips.
Maybe a bronzy color look or smokey hot blue is not your cup of tea. So you can try a subtle makeup look for the day too. No one's going to judge you.
This look is pretty classy and works every time especially if you are too shy to use vibrant tones on your eyes.
All you need is to do is get your hands on a navy blue eyeliner on the top, and use a subtle hint of patriotism and color your lower lash with a red shade use a white toned highlighter in the inner corner to complete the look. Use long curvy lash mascara with red lip locks. You'll stun yourself!
Are you excited but confused about which products to choose from? Listed below are some of the most amazing quality products you can find anywhere in the market.
If you don't have one, go and buy one with high quality. You can always rock white winged eyeliner with a bold lip color or a great hairstyle!
To add the graphical vibe to your look you can choose Mac or Nyx Professional Makeup Liquid Liner.
Your makeup vanity may already be stocked with shades of red but one shade is never too extra. So you have lots of choices like Uncensored from Rihanna's Fenty Beauty Label for a matte look.
You can even take a pick from Sephora's Obsessed shade (orange-red shade) which women love a lot.
Of course, you will need a palette of blue eye shadows.  The reason why most influencers tend to use this color is for the bright, summer looks and it can never go wrong.
Maybe you can try Urban Decay Vice Eye shadow or even use some glitter makeup by Huda Beauty. Both have a wide range of blues in their eye shadow palettes.
The hairstyle is a part of your glam look, so how can you even forget to style your hair? The most common but cute way to style your hair is with cool bobby pins featuring stars.
They do add sparkler to your hair. Or you can always add temporary hair chalk colors in your list of items.
The final part of your makeup looks includes your cuticles too! Matte, glossy or glittery nail paints are perfect choices to pick from. Add nail art to the banter and voila! You are good to go.
Happy Birthday, 'Merica!
Things may look a bit different this year, but do not let the life transition change your happy vibes. You can always try new makeup looks for the 4th of July or even create your mix of colors, who knows? So don't be sad, add more lipstick, and march on those Louboutin dying to come out. It's time to play D.O.L.L.