A confident skin is a confident you, that's what is usually said about the women who wear makeup. One may start a debate or discussions over the need of using the best makeup kits and makeup palettes but all we have ever done is made on one side of the road. Makeup is accustomed to women, the basic concept is generalized that "women wear makeup". The idea is not restricted to one side of the gender only.

So this argument simply stands no solid grounds for me that say "only women wear makeup".  Besides, these men think women wear makeup to impress them. Do you (guys) think women wear a shade of Mac and you'd know the difference between a red, cherry red, blood red, or maple red? For guys, it's just red. For women it's more than just color it's a whole red color palette.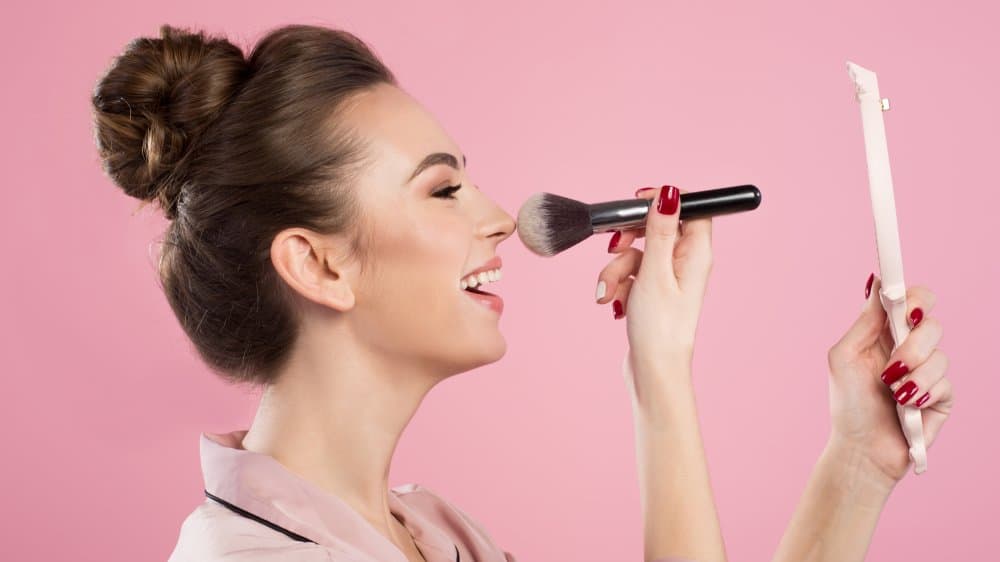 "I always wear makeup as I've never seen the point of looking less than my best," says Elizabeth Hurley.
None is wiser than the star now is there? But its time you figure it out why women do wear makeup after all. Let me warn you, you'll be surprised after learning them.
Utters confidence when you wear makeup
That's what Elizabeth Hurley was talking about. When you look your best you feel confident, it's a basic makeup for beginners guideline 101.  It comes as no surprise; makeup helps improve the self-esteem of many women. Now, women who dare to step outside without wearing any makeup can mean only one thing she is not there to impress you.
But every woman is not the same. Some love to adore heavy makeup look while some follow makeup trends for the year like nude makeup look and so on. Those who are obsessed with makeup feel confident when their eyes are adorned by perfect winged eyeliner. Some just pat their lips with a transparent lip gloss and be done with it
So you see, there are different levels of using makeup. The amount of makeup required to boost confidence in women varies a lot.
Change the "look" appeal
Did you know women do wear makeup not only to look younger but to look older? Not everybody is comfortable in their skin. generation Y is focused on getting looking older than they age or maybe it's just the way they wear makeup that makes them look older and mature.
So here's the little secret of ours: girls do not always want to look young. It's surprising because girls unsatisfied with their physical appearance can have the minimum change by just wearing makeup. Remember the trend of pouty-full lips?
Makeup can even change the sex appeal of a person. Marilyn Monroe was a sensation back in her time, it was not only her bold choices in career and wardrobes but her signature blonde hair with her red lipstick and a perfect lip liner was "The Thing".
Wearing makeup improvise with your skin
Just imagine acne scars denting your face… It's a horrible sight for many because these scars tend to last longer

This is another common reason why women do wear makeup regularly. With makeup, you can achieve clearer skin, no blemishes, and make it look fresher. Even if you are thinking to hide the acne scars or a last-minute pimple, there are hundreds of beauty products you can use to make it go away.
So yes, women who are too conscious about their skin related problems often tend to use makeup to cover acne and that way you can easily fake a spotless skin!
Of course, women wear makeup to enhance the beauty
That's a given for sure. Makeup doesn't necessarily mean that you need to put a lot on your face but even if you want to change the appearance of your face as you deem it. Just so you know permanent makeup is one way to enhance certain facial features.
You must be familiar with eyebrow tattoos and lip taints injected into the skin for a natural rosy hue. Even changing your eye shape is possible with the right treatment and the use of makeup can make it look sharper and more enhanced. If you never wondered how one got so rosy lips or thick eyebrows, you need to wonder now.
Even nose contouring can change your entire look! It's surprising how contour changes look if applied correctly.
Makeup is fun!
You do not need to be an expert makeup artist or a makeup nerd to enjoy the makeup ritual. But you have to admit makeup is another form of art. Your face is the canvas and the eye shadow palettes along with various other beauty enhancing products are the magical stokes you need to change your look.
Just adding a double-winged eyeliner or even a classical eyeliner can change the look of your eyes. Makeup indeed is powerful for women.  But learning to wear to makeup required patience; you may never contour correctly in your first go.
DIY videos by your favorite most vloggers have certainly created a strong makeup appeal for many young ladies.  From basic makeup routine to everyday makeup hacks you get to learn makeup in easy and simple ways so yeah it's needless to say it is fun too.
Adds a layer of self-care
Well, this one this a surprise. Technically it depends on how you perceive makeup. An optimist would see wearing makeup as a way to pamper themselves with much-needed self-care and self-attention. Its' not always about standing out from the crowd, it's about you much you love yourself. Among healthy-looking skin, several other factors contribute as benefits of wearing makeup.
Most importantly it gives you the control over your skin, shape it the way you please. Even a little bit of extra moisturizer or perfect lip color can change your mood. Wearing makeup affects your moods and emotions too. So there you go, no wonder women who wear makeup look so much happy.
Think of makeup as a weapon that sure has positive effects on women of any age group. It's better to outstand in the crowd rather than under the gloomy shadow of your doubts.