Getting regular health checks sounds too much but it's not. All you have to do is get up and drive and dedicate the whole day (or most of it) to the hospital. This means vital blood tests along with the rest of the routine tests parading through boring hours.

But what to do when you are stuck at your home? Moreover, what can you do when even the government tells you to stay home and not go out until absolutely necessary. Or when it's a life and death situation?
This pandemic has taught us many things. But it is far from over. 
We have been sitting on our asses all day, doing office work or lying in bed, and actually doing the saying "Netflix N Chill''. I know for a fact I have been doing that for the majority of the time when not working. 
Honestly? Who wouldn't love doing that? I think I speak for everyone in my household when I say that we can lie in our beds the whole day and not get bored. But do you feel that slight push at the back of your mind? That's your brain telling you it's time for a change.
It's a sign that while you enjoy your bed sessions for unlimited hours, you neglect your health. Now we would not want that right? 
So, let's roll up your sleeves, get up, and do these easy 5-minute health checks at home at any time.
Every household has a basic first aid kit. If you have ever opened it, you would know that it's filled with multiple medical items that aid us in our time of need. So, needless to say, it also contains a thermometer. So, always invest in a good one.
Your normal body temperature is 98.6F or 37C. But it can vary according to time of the day, age, and which part of the body you take the temperature from. Checking your temperature will tell you when you are running a fever, or if there is anything wrong with your body. Make sure to check your temperature in good health, so you know your normal body range.
Wheezing is a high-pitched whistling sound made while breathing. It's often associated with difficulty breathing. 
5.4 million people in the UK are currently receiving asthma treatment: 1.1 million children (1 in 11) and 4.3 million adults (1 in 12). Asthma can make many daily activities a real-life struggle. Many undiagnosed asthma cases turn into E.R visits over the year. Undiagnosed asthma makes life difficult for the inflicted and in some cases is proven to be deadly.
Ask yourself
   

Do you wheeze sometimes?

   

Do you experience shortness of breath while you're exercising or exerting yourself?
If yes, that means there is something wrong. If the condition persists, consult your GP (General Physician) asap.

Breast cancer is a prevailing health scare for women of all ages. But it is really simple to check whether or not you should get yourself checked by the doctor or not. There are ways to know if everything is in perfect health.
While you shower or you are lying down, you can check your breasts for any lumps or protruded mass. Using your left hand, move the pads of your fingers around your right breast gently covering the entire breast area and armpit. Use light, medium, and firm pressure. Squeeze the nipple; check for discharge and lumps. Do the same for the other breast. 
For a regular breast check, you can even download an app for regular notifications and record keeping.
A normal resting heart rate for adults ranges from 60 to 100 beats per minute. Generally, a lower heart rate at rest implies more efficient heart function and better cardiovascular fitness.
To check your heart rate, simply check your pulse. Now you can do this via using a portable pulse and heart monitor or you can do it manually.
 To find your pulse in your wrist:
Hold out one of your hands, with your palm facing upwards.  

Press the first (index) finger and middle finger of your other hand on the inside of your wrist, at the base of your thumb – don't use your thumb as it has its own pulse. 

Press your skin lightly until you can feel your pulse – if you can't find it, try pressing a little harder or move your fingers around.
To find your pulse in your neck:
Press your first finger and middle finger to the side of your neck, just under your jaw and beside your windpipe – don't use your thumb. 

Press your skin lightly to feel your pulse – if you can't find it, try pressing a bit harder or move your fingers around.
Count the beat for 15 seconds and then multiply by 4 or count them for 30 seconds and multiply by 2. This will give you your heart rate.  
Blood pressure can cause a strain on your heart. It is a major risk factor for stroke, heart attack, heart failure, kidney disease. High blood pressure is caused by a high sodium diet. Sometimes, there are no warning signs but it is vital to check your blood pressure.
Blood pressure monitors are relatively easy to use. A normal range lies between 90/60 mmHg to 120/80 mmHg. Anything above and below needs to be treated.
Using a heart health monitoring app is a convenient way to regularly monitor your blood pressure levels and track any changes over time. By doing so, you can identify potential risk factors for heart disease and take proactive steps to manage your health. With the ability to set reminders and receive personalized insights, these apps can help you stay on track with your health goals and prevent potential complications.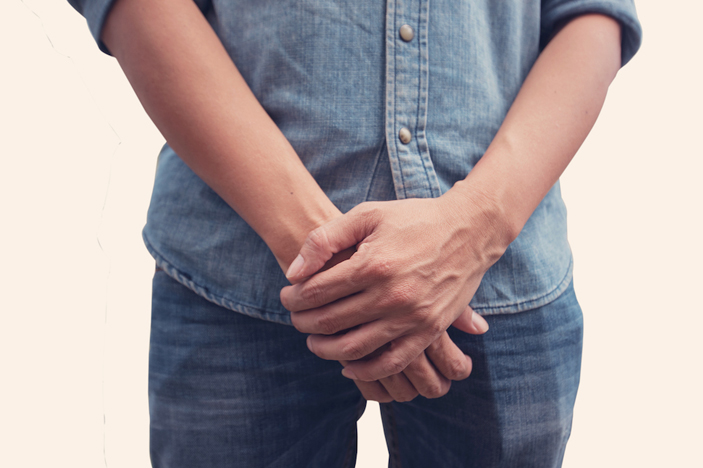 It is important to check for lumps or any unrecognized bumps or protruded mass in the testicular region daily. Check your testicles after a warm bath or shower, holding your scrotum in the palm of your hand and using the fingers and thumbs of both hands to examine your testes.
Any lumps or swelling can be an indication of cancer. So, it's better to make sure there is no underlying condition.
If you have diabetes or pre-diabetes or even a history of diabetes. It is essential to check your blood sugar levels daily. Glucometers are readily available at pharmacies and you can check your blood sugar with just a drop of your blood.
Too much fat around your waist can increase your risk for diabetes, cardiovascular diseases, and obesity.
Circle your waist with a tape measure, then move it down until the bottom of the tape rests at the top of your hip bones. Don't hold your breath or cinch the tape too tight. Write down your measurements.
For men, the risk for diabetes and heart disease begins to rise with a reading of 37 inches; a measurement of 40 inches and up is considered high risk. For women, 32 inches is the dangerous threshold, and 35 inches is high-risk terrain.
Check your skin monthly for any new moles, or growths that have started to bruise, itch or burn or bleed. It's the easiest way to check yourself for skin diseases.
Self-care is essential to your health as well. Take out 5-minutes of your time. Give yourself frequent health checks at home. And know, if anything is wrong with you first before you need to consult your doctor. Stay Fit and Eat Well!